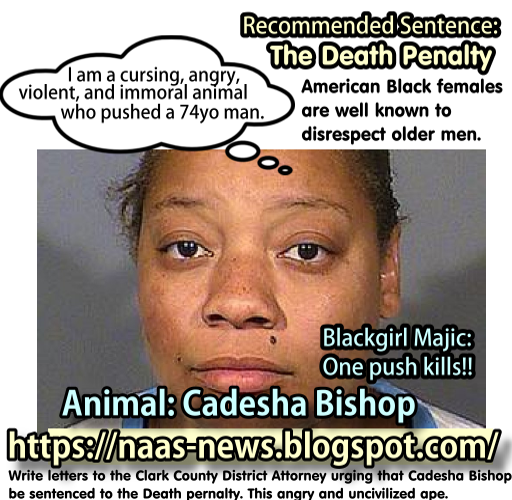 Angry Black Woman Cadesha Bishop Pushes elderly man to his death.
By Special Correspondent: Ron Thomas
25 year-old ape woman Cadesha Bishop is being charged in the death of an innocent, and humane elderly man. A month after this man was pushed from a public transit bus, he died from his injuries.
Cadesha Bishop, the 25-year-old so-called woman was arrested May 6 on a murder charge in the death of Serge Fournier. A Las Vegas judge set a preliminary hearing on July 17, 2019. The public s requested to show-up and to demand the Death Penalty.
A Las Vegas judge set bond at $100,000 bond. Animal Cadesha Bishop is now free on bond despite having not proved herself to be civilized.
Tramp Cadesha Bishop Shares Traits common with Black Women: Mature Men Not Respected.
Having taught at numerous high-schools, and middle-schools, and having interacted with both black female students, as well as professional black females at their places of employment, it is common for black females to openly disrespect older, wiser, and mature men.
For Cadesha Bishop to violently disrespect the rights of Serge Fournier, it is no surpise to any Educator or civilized person that has to put up with the stench of a black womans's filthy personality. Unless their is a sexual interest in the male, the black girl will not be capable of conducting herself like a civilized human.
To put the actions of Cadesha Bishop in context, if this sorry and worthless animal was physically attracted to Serge Fournier, the incident would not have taken place. Animal Cadesha Bishop was angry at the mere sight of an elderly man whom she cold not fantasize about. A substantial number of Black women, black girls, and their daughters that were born after 1980, simply think like female animals in heat.
Western-born black females will curse at, lie to, and disrespect the more wiser and the more stable elderly men. This disrespect reaches all men.
Death Penalty Urged for Murderer Cadesha Bishop.
The outrageous actions of 25 year-old Cadesha Bishop on a public transit that resulted in the murder of an innocent man warrants the death penalty.
Local Police claim that animal Cadesha Bishop had been yelling profanities on the bus, cursing like an uncivilized ape, acting like ungrateful former slave; and, that she ultimately shoved Mr. Fournier off the bus like a coward. Mr. Fournier had told ape-girl Cadesha Bishop to be nicer to the passengers, according to her arrest report.
Instead of acting like a civilized human, Cadesha Bishop became further enraged. All that Cadesha Bishop was concerned about was hurting an innocent man. She was acting like the stereotypical black female: Loud, angry, uncivilized, disrespectful, profane, and dirty.
After being assaulted by a live ape-girl, ak/a/ Cadesha Bishop, Fournier landed on his head about 8 feet from the bus. Cadesha Bishop walked away without offering help, police said.
Cadesha Bishop was on the bus with her son at the time, thus proving she is no virgin. Filthy Cadesha Bishop opened up her legs to a man she was sexually attracted to, but pushed another man to his death because she was not attracted to him.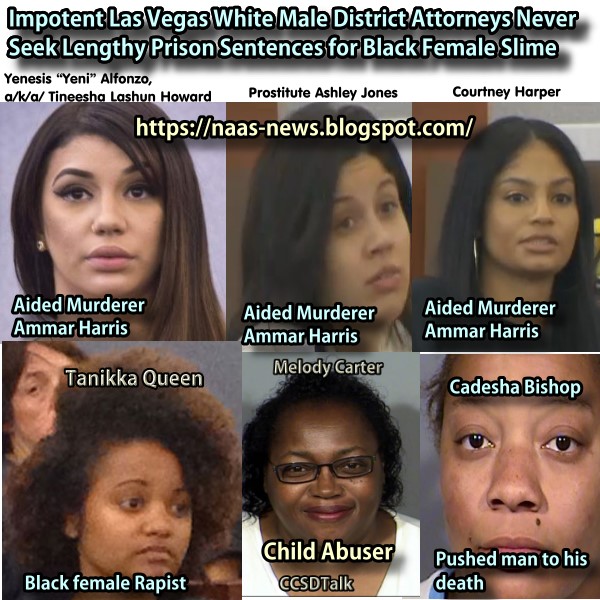 However, due to the fetish fantasies that white male Clark County District Attorneys have regarding black females, and their use of Black female employees and black female Deputy District Attorneys, as office tramps assigned to unfairly prosecute black males, minorities, and poor whites, one should not expect any serious sentence for Cadesha Bishop.
Black female rapist Tannike Queen (a/k/a/ Jungle Queen Tannika, was sentenced to probation; black female child abuser Melody Carter was sentenced to probation;etc.