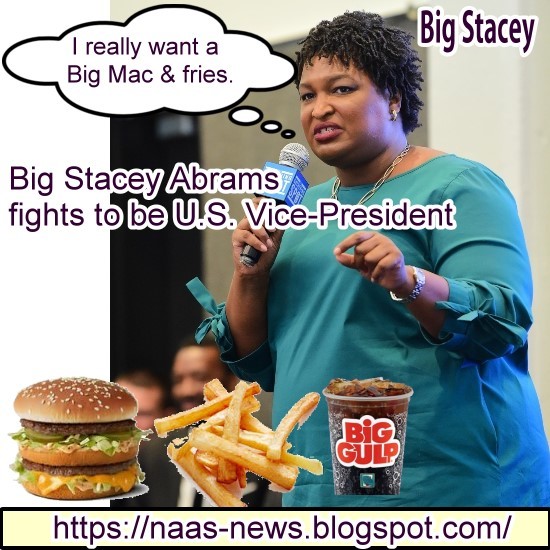 Big Stacey Abrams! 1 serving of the U.S. Vice-Presidency, Please
By Special Correspondent:Blog Writer Ron Thomas
More Hamburgers or Vice-Presidency? What does Big Stacey Abrams Really Want?
At 5ft, 2 inches, and 189lbs., or so, Stacey Abrams would make a fine spokesperson for McDonald's, a sandwhich shop, or Burger King. Pork chops, BBQ chicken, Georgia Yams, grilled ribs, pig meat, apple pies, ice-cream, soda drnks, are some of the types of food that one can assume comes with her hefty-size.
Big Stacey Abrams has all the food she wants. When visiting Georgia restaurants, she gets free meals, and free donuts. Now, Big Stacey Abrams wants the public to believe that she wants to be Vice-President of the United States. If elected, she would outweigh the previous First Lady by 50 lbs. or so.
Who is Big Stacey Abrams?? The Georgia Democrat, who is best known for her failed gubernatorial candidacy in 2018, has launched a full-fledged campaign for the vice presidency in recent weeks.
In typical black American female fashion, her mouth has been non-stop. Big Stacey Abrams has been bold, brash, loud, and obnoxious. Big Stacey Abrams has refused to allow her weight or massive appetite to be a factor.
The linebacker-sized political candidate has been shouting and screaming to every newspaper reporter why she, of all persons, is best suited for the job of U.S. Vice-President. In doing so, Big Stacey Abrams has proved why she's not qualified.
Big Stacey Abrams and Unqualified Women of Color
Frito-breath Stacey Abrams media tour began back in February 2020 when Joe Biden, the presumptive Democratic nominee, first mentioned his campaign was seeking a female nominee. When reporters asked Big Stacey Abrams if she would be interested, Abrams acted in a way consistent with her culture: she was hyper-masculine, and did not shy away. "Of course, I want to be the U.S. Vice-President," she said at the time.
The more feminine political candidates shied away from the question.
Recently, Big Stacey Abrams has sought to apply even more aggressive tactics to literally force Joe Biden to select her.
When Big Stacey Abrams realized that fit and trim Michigan Gov. Gretchen Whitmer and Minnesota Sen. Amy Klobuchar were serious contenders, Big Stacey Abrams pulled out the Race-card against the more feminine white female candidates. Big Stacey Abrams, and her cast of African-American female friends, suggested that choosing anyone but a woman of color would be a disservice to the African American community.
Women of color like Sunny Hostin jumped on the Stacey Abrams Ice-Cream train. They all wanted a Black woman to be a Vice-Presidential pick although non was qualified, and all had failed to win a single state.
Political Whore Kamala Harris even touted her self-proclaimed affection for Joe Biden despite months earlier implying he was racist for not doing enough to stand against forced busing. Kamala Harris has been widely reputed to have slept her way into office. The remark about her so-called affection for Joe Biden was black-girl talk that meant Come-and-Get-It-Anytime.
Indeed, the career of Kamala Harris has relied upon a bed-to-bed relationship with paternalistic white males seeking a woman of color to dominate, control, and to be her modern Master.
Big Stacy Abrams Shifts to Prostitution Mode
Having failed at the Race-Card, Big Stacy Abrams Shifts to Prostitution Mode. Like a street-walking black female prostitute, Stacey Abrams is now playing with Kamala Harris Playbook: Big Stacy Abrams has emphatically announced her support for the former vice president as he faces an accusation of sexual assault. The accusation, made by a former congressional staffer, is "not credible," Abrams said, citing a New York Times report that explicitly stated it could not determine Biden's innocence or guilt at this time.
Apparently, Big Stacy Abrams has more facts, more butter, and more evidence than the vaunted investigative reporters of the New York Times. In reality, Stacey Abrams has little integrity, and she is willing to play by Black Girl Rules: Lie, cheat, and sleep with the Master to get ahead.
Stacey Abrams wants her fat face on the U.S. President ticket. Big Stacey Abrams is willing to eat 500 Big Macs, 1,000 hot dogs, 430 apple pies, 250 pizzas, or tell 1,000 lies to get the job.
Reject Unqualified Big Stacy Abrams and Her Friends
Sunny Hostin is a Latin American lawyer, columnist, journalist, masquerading as a Black woman. She is co-host on ABC's morning talk show The View as well as the Senior Legal Correspondent and Analyst for ABC News. How she obtained these jobs is very suspicious.
Sunny Hostin is a supporter of Big Stacey Abrams, Kamala Harris, and any woman of color except Ms. Tulsi Gabbard.
Stacey Abrams could not win her own home state of Georgia despite free media coverage. She is of no value to Joe Biden: physically, emotionally, or politically.
Kamala Harris could not even win Iowa or New Hampshire. Kamala Harris won the State of California as a U.S. Senator only because she was backed by a small cluster of influential men who knew she could be controlled.
African-American men are not simply going to vote for a turn-coat like Kamala Harris or her fat, loud-mouth, unprofessional, and arrogant friend Stacy Abrams.
Stacy Abrams is better suited as a McDonald's spokesperson or a Burger King mascot.
That's my opinion.